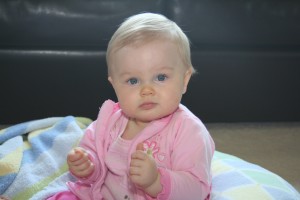 Signe was diagnosed with stage III intermediate risk neuroblastoma in infancy. She was treated successfully with a standard Children's Oncology Group protocol that was being studied and has since been reduced to minimize late effects.
This Christmas, Signe will be 10 years cancer free. We thought as a long time junior guild member and 10 year cancer research fundraiser, she'd be the perfect ambassador to represent Friends for Life as we celebrate the guild's 10th anniversary. With thanks to SCH and all who champion research.
Signe designed her ornament to include her favorite color, bright green.  She also wanted hints of the colors selected by previous ambassadors.  Her design is fabulous.  It is bright green with swirls and speckles of assorted colors.   Shop Now!
A Note from Friends for Life:  We are honored to have Signe as our 2016 Ambassador and as a Guild Member.  We are also honored to know and work with her wonderful family!