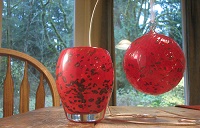 Owain is an adventurous, fun loving kid who loves being a big brother to Dylan (age 7), sailing, cycling, reading, hanging out with friends, playing soccer, reading, and playing video games – the usual stuff.
In December of 2009 he got a series of colds, and his energy dropped and appetite failed. Despite this he continued his cycling and training for the Livestrong Challenge. We could put most symptoms down to getting over colds, or moods, but by late February at the 32 mile Chilly Hilly road bike ride, it was clear he was changing. In March 24th, he was diagnosed with pre-B Acute Lymphocytic Leukemia.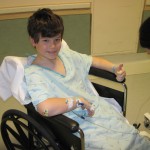 He spent 8 days inpatient under initial treatment, where we started to get a grip on how much our world was changing. We started his blog – which you can still follow – at http://owainsarmy.org. Owain was keenly moved by the younger kids going through treatment. We were talking to him about how he got cancer ("It's nothing you did, and we don't know why it happens") and he responded, "I don't really care how I got cancer, I care how I am going to beat it. As for why, maybe it is so they can learn something by treating me that will make it easier for these little kids." (Yes, we were speechless). To that end, he has enlisted in 3 studies so far, cheerfully getting poked and prodded so the little kids can have an easier time.
He went through induction and consolidation, then – 2 days after chemo injections at the start of interim maintenance – rode the Seattle Livestrong Challenge (13 mile course instead of the originally planned 50) – Livestrong made a video about him and we filmed him riding – this is a ride he insisted on doing, all on his own steam, despite throwing up from chemo that morning. Owain raised almost $4,000 by doing that ride.
Owain is in the Long Term Maintenance portion of the treatment protocol. Barring surprises, Owain will complete chemo in May of 2013.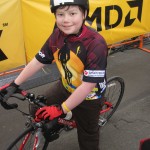 Owain has been trying to get back into school and be a normal kid, despite the side effects of daily chemo. He's back on the bike, back in school, and back at play – all because of his own strong will, and the tremendous support of our community and the medical staff at Seattle Children's. As he said in the Livestrong video "if you're in cancer treatment, you can still do what you like to do – even if you can't do it as well as when you were healthy."
Owain and his family have continued to do fundraising efforts – for Pablove.org, for Seattle Children's Pediatric Oncology- and most recently, St. Baldrick's.
We are tremendously excited that Owain is the ambassador for Friends for Life this year, and about the impact that we can make working together to defeat pediatric cancer in our lifetime.