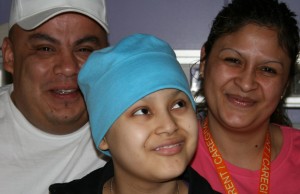 When Anelia picked out her ornament colors she chose a rainbow of her favorites – teal, purple and pink. In 2007, Anelia underwent treatment for Osteosarcoma. Anelia's family and friends provided her with an enormous amount of support and had an extremely positive outlook on life and her ability to overcome cancer. After her treatment Anelia returned to her home in Yakima Valley.
The beautiful colors of Anelia's ornament represent her and her family's feeling that there is good fortune at the end of her rainbow.
Update July 2020: Anelia is doing well and has a 7 year old daughter.