SHOP FFL ORNAMENTS AND VOTIVES
We have a large, dedicated following and we are so very thankful for your support. With your help, we will help fund the Cure for Childhood Cancer. Friends for Life is confident the Seattle Children's doctors and researchers will be part of the cure!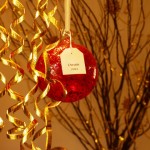 If you have never shopped with us, then welcome! We are an all volunteer, Seattle Children's Guild that raises money for Childhood Cancer Research at Seattle Children's Hospital. Beginning in 2006, we started selling hand-blown glass ornaments. The color and design are inspired buy a Childhood Cancer patient or survivor. In 2010, we added votives to match the Ambassador's color selection.
As you shop, please understand a few things about us:
1. Shipping charges can be avoided by checking "Pick up."   A FFL representative will contact you via email to determine how the products will be delivered.  FFL reserves the right to ship your order if your location is not feasible for delivery .   Coordination of delivery may take several weeks.  Starting in 2013, we will be piloting a new "Pick Up" process.
2. We use paypal to process your payment. But, you can avoid Paypal, by selecting the Pay as a Guest option. It may still look like you are running your payment through paypal, but you will not be forced to sign-up for Paypal.
3. Shipping Products – Oh, we do our best to get things in the mail quickly.  Please do let us know, in the comments section, if you have a deadline. We will do everything that we can to meet that deadline.
Start Shopping now and Support Childhood Cancer Research at Seattle Children's Hospital